Shoei GT-Air 2 Affair TC-1 RED/BLACK [Size: Small]
---
Free Shipping on Orders Over $50!
Product SKU: 1119064
$1,099.90

Make 4 interest-free payments of $274.98 fortnightly and receive your order now. More info.
In-stock
Shoei GT-Air 2 Affair TC-1 RED/BLACK
Free Shipping on Orders Over $50!
The all new GT-Air II evolves Shoeri's premiere full-face helmet line into the most versatile helmet ever made! The GT-Air II provides advancements in design, functionality and performance that ensure it is capable of adapting perfectly to all of our ever-changing Australian conditions. Featuring a lengthened internal sun shieled for optimal sun-glare protection, an all-new "first position" shield opening for advanced ventilation and defoggin, enhanced aerodynamics and noise-reduction technology, and the ability to seamlessly integrate with the all new Sena SRL2 Communication System, the GT-Air II is equipped to accomodate your every need.
Intercom-Ready Design
• Evolved design, functionality and performance over its predecessor
• Designed for seamless integration with SENA SRL2 communication system
• Wind tunnel-tested and refined aerodynamics
• Shell-integrated spoiler reduces lift and drag
• Noise-reduction technology reduces unwanted wind and road noise
• New, longer flip-down internal sun visor cuts down on sunlight entering the helmet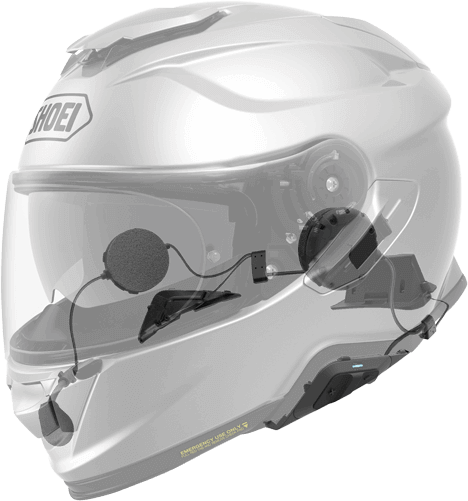 Ventilation Performance
• Redesigned upper air intake shutter draws in more fresh, cooling air
• Enlarged lower air intake opening allows greater airflow into the helmet
• Large upper and lower vent shutters for ease of use with riding gloves
• Three (3) intake and five (5) exhaust vents
• Wind tunnel-optimized to maximize airflow and improve negative air pressure exhaust suction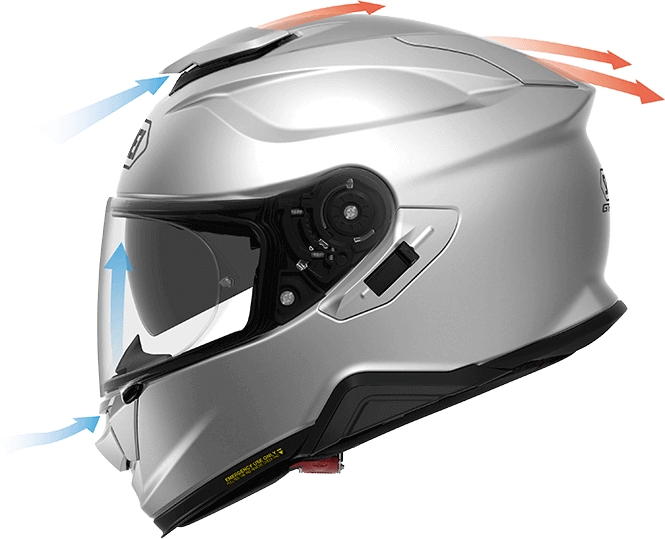 Aerodynamics & Noise Reduction
• Wind tunnel-optimized to strike the perfect balance between airflow and silence
• Compact shell shape with aggressive, streamlined styling
• Improved, airtight window beading prevents unwanted wind noise
• Reduction of unwanted wind and road noise through superior sealing and aerodynamics
• Enhanced internal sun visor system reduces unwanted noise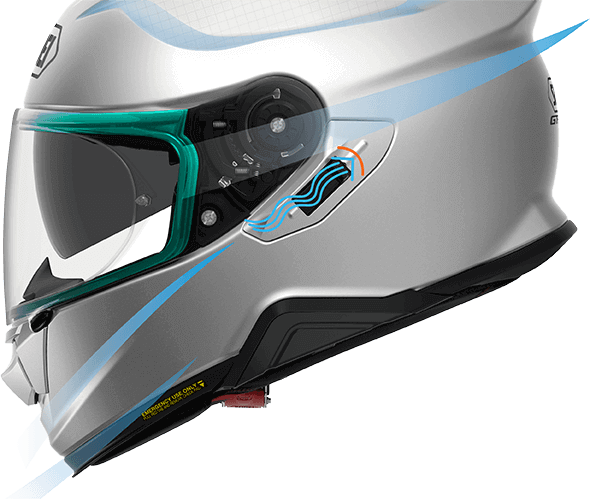 CNS-1 Visor
• Wider and taller field of vision
• Protects from 99% of the sun's damaging UV rays
• 3D injection-molding ensures a distortion-free view throughout entire field of vision
• Comes equipped with Pinlock® EVO fog-resistant system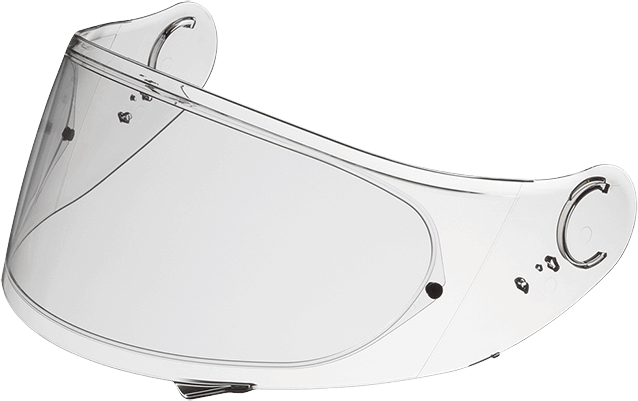 CNS-1 Base Plate System
• Smooth and easy visor changes
• Shoei's patented spring-loaded technology ensures a wind and waterproof seal
• Redesigned base plate gear has an all-new "first position" visor opening feature
• New first position visior opening has been optimized for advanced venting and defogging without allowing excess wind to distract the rider
• New airtight window beading drains/prevents water from entering helmet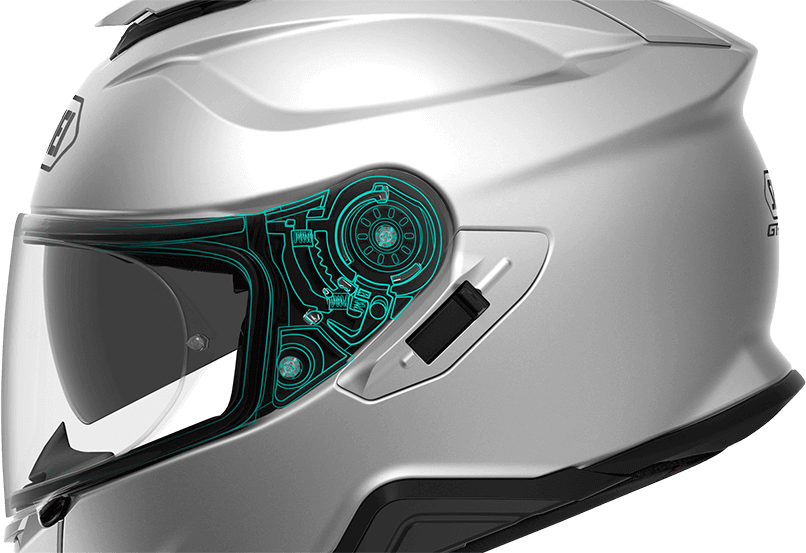 Internal Sun Visor
• Built-in QSV-2 sun visor is 5mm longer and gives riders improved, instant relief from sun glare in one quick motion
• Large, easily located switch activates the 3D injection-moulded inner visor
• Distortion-free view blocks 99% of the sun's damaging UV rays
• Forehead area of outer shell is raised slightly to accommodate the internal sun visor, allowing for the integrity of the helmet's inner EPS liner to remain intact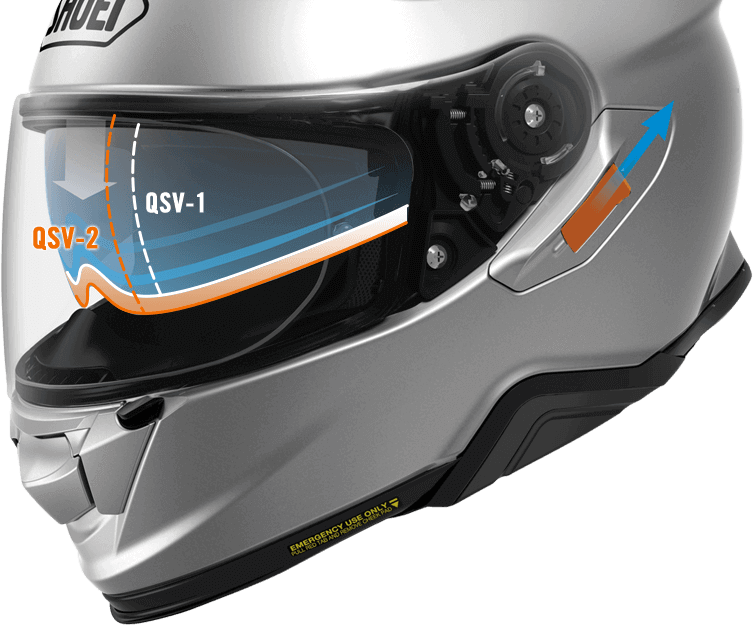 Multi-Ply Matrix AIM Shell
• Proprietary technology integrates a multi-ply laminated fibre matrix shell
• Hand-laid interwoven layers of fiberglass with organic fibres and resin
• Shell-integrated spoiler with consistent shell thickness guarantees proper strength and weight
• 3 Shell sizes and 4 EPS liner sizes for perfect fit
• ECE 22.05 Certified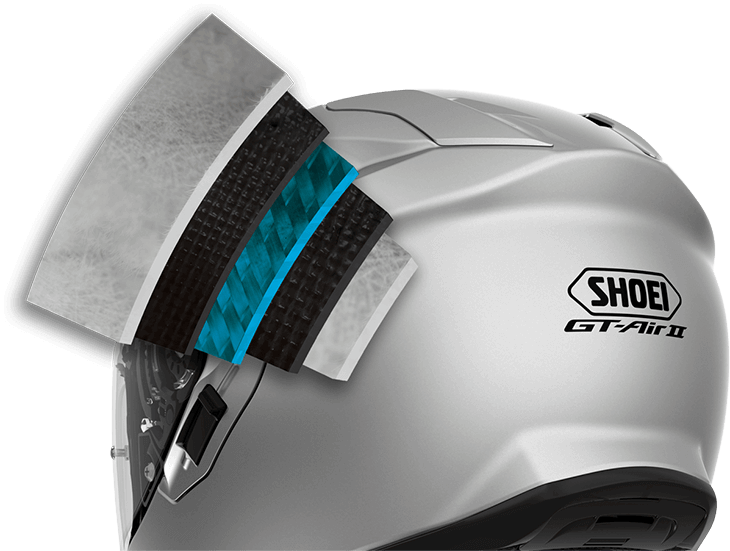 Multi-Piece / Multu-Density EPS Liner
• Provides enhanced impact absorption by utilizing varying densities of foam
• Allows cooling air to travel unrestricted through tunnels created in the EPS
• Precise placement of multi-density EPS material yields a more compact, lightweight design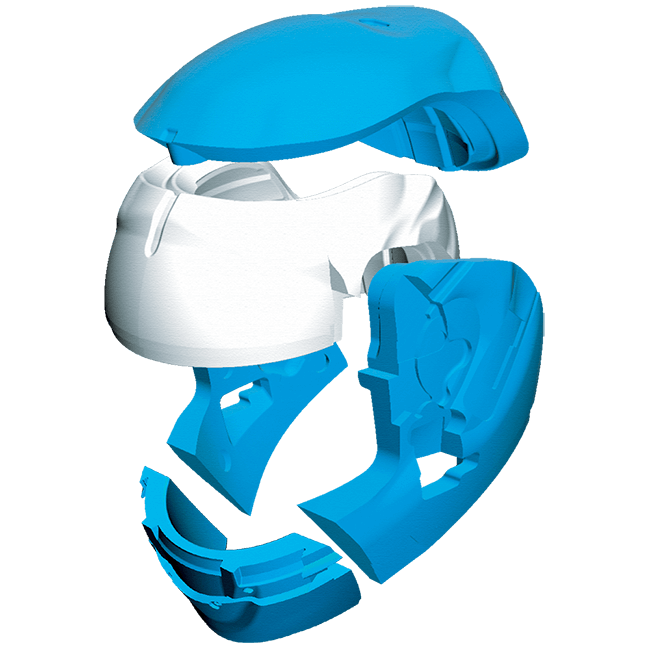 E.Q.R.S. - Emergency Quick Release System
• Allows emergency medical personnel to easily and safely remove the cheek pads from an injured rider's helmet
• Helmet can be gently removed from an injured rider's head with minimal load placed on his/her neck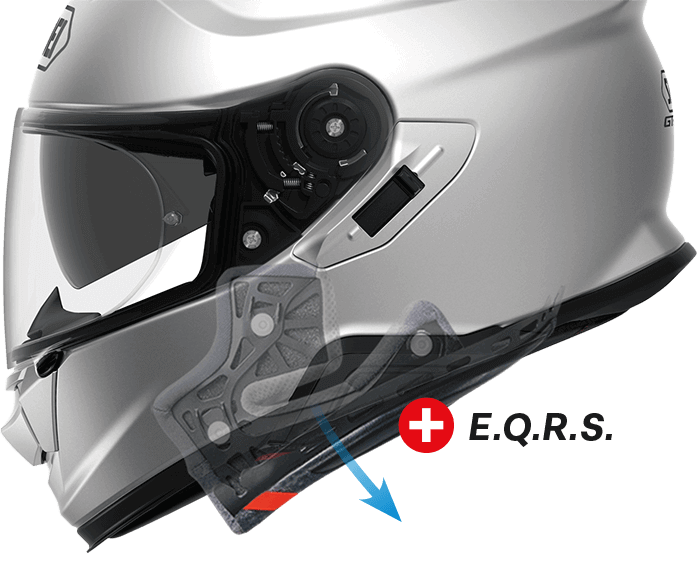 Micro Rachet Chinstrap
• Patented 100% stainless steel interlocking mechanism
• Quick and smooth closure and opening
• Comfortable and easily-adjustable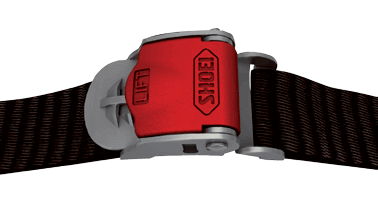 3D Max Dry Interior System
• Fully removable, washable, replaceable, and adjustable
• Exclusive Max-Dry material absorbs and dissipates sweat 2X faster than traditional nylon
• Three-dimensionally shaped to match the contours of a rider's head
• Multi-layer cheek pads for comfort and helmet stabilization
• Premium two-tone interior fabric and red stitching accentuate the unmatched fit and finish
• Optional interior components available in different sizes for a customizable fit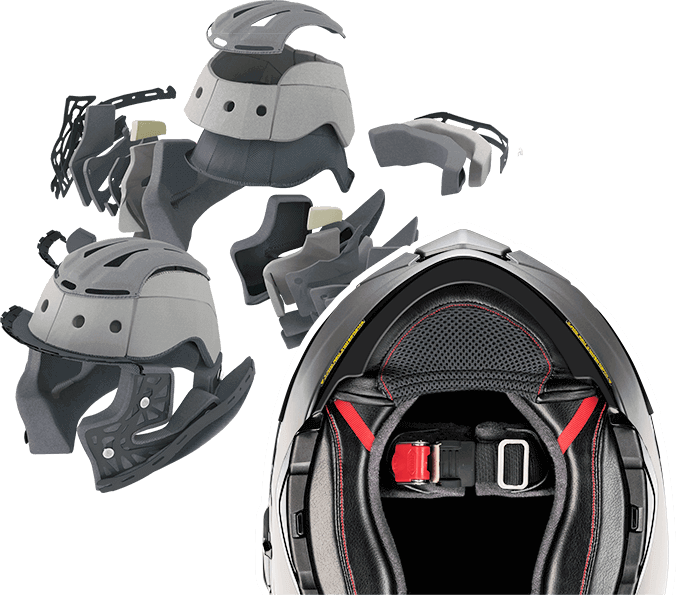 Accessories
• Breath guard (included)
• Chin curtain (included)
• Ear pads (included)
• Pinlock ® EVO visor and insert (included)
• Nylon drawstring helmet bag (included)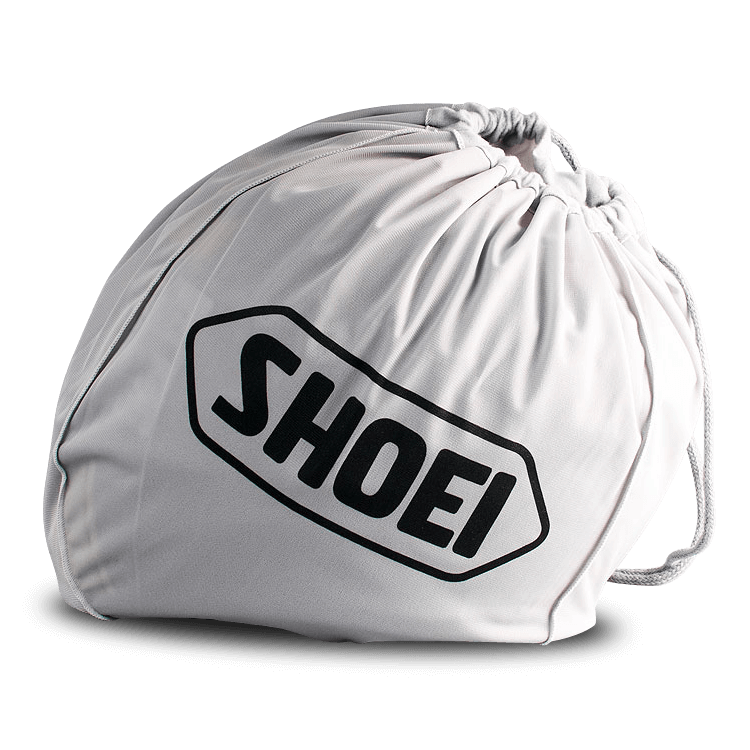 Find a Store
Caboolture Store
42 Beerburrum Road, Caboolture QLD 4510
Call 07 5499 0733
---
Windsor Store
205 Lutwyche Road, Windsor QLD 4030
Call 07 3357 4333
---
Online Store
205 Lutwyche Road, Windsor QLD 4030
Call 07 3828 3755
| | |
| --- | --- |
| SKU | 1119063_68 |
| Brand | Shoei |
| Shipping Weight | 2.5000kg |
| Shipping Width | 0.300m |
| Shipping Height | 0.300m |
| Shipping Length | 0.400m |
Returns & Exchanges
Worry about buying something online and it not fitting?
We've taken all the hassle out of it and made purchasing from Brisbane Motorcycles completely hassle free! If you purchased an item using our online store below are the steps you need to follow for an exchange:
Sign into your account at www.brisbanemotorcycles.com.au/_myacct. If you do not know your account details or purchased using eBay not to stress as you can have them sent to you by entering your email at /www.brisbanemotorcycles.com.au/_myacct/forgotpwd.
Raise a Resolution Case within the Resolution Centre. This is where you also need to let us know what you wish to exchange too. You can locate the part number on the product page under the name by clicking on the size or colour.
Receive confirmation from our team as to your RMA (Return Merchandise Authorisation) Number along with your new order number.
Package up your unused product(s) and send it to the below address.
Once we receive your original item we will let you know by messaging you from the Resolution Case, followed by dispatching your new item and emailing your tracking information.
Online Exchange RMA #
Brisbane Motorcycles
205 Lutwyche Road,
Windsor QLD 4030
---
What can not be exchanged or returned?
Due to health and safety regulations we are unable to accept returns on the below items, please ensure you conduct all due diligence to ensure the item you are purchasing is 100% correct:
Helmets.
Underwear including Compression Pants.
Socks.
Service Items.
Clearance Items.
We are here to help, so if you're after service parts for your bike please let us know either your make, year and model or the best option is always your bikes VIN to ensure the parts are correct for your bike.
Be The First To Review This Product!
Help other Brisbane Motorcycles users shop smarter by writing reviews for products you have purchased.
Have a question about this product? Please email us at webshop@brisbanemotorcycles.com.au or give our team a call on (07) 3828 3755 between 8am till 5pm (AEST) Monday to Friday.
The product you're looking at is SKU: 1119063_68, quote this when you contact us to fast-track your enquiry.
Others Also Bought
You Might Also Like